STILL AVAILABLE (from 2009/2010):
~~~~~~~~~~~~~~~~~~~~~~~~~~~~~~~~~~~
THAT WHICH HAPPENS IS ITSELF DRIPPING RED
(botanic records 002)
Irena Tomažin - voice, Marko Karlovčec - alto sax
Album je koncertni posnetek dueta s priznano slovensko eksperimentalno pevko, plesalko in igralko Ireno Tomažin. Gre za dobrih 40 minut dolgo improvizacijo, ki odseva vplive obeh vpletenih in se hkrati podaja v nova zvočna prostranstva zadušenih saksofonov, grlenega petja, mehurčkov, maničnega kričanja, akustičnega drona in še več. Posnetek odlikuje čist in prostorsko dobro razporejen zvok.

The album is a concert recording of a duo with renowned Slovenian experimental singer, dancer and actress Irena Tomažin. It is a 40 minute improvised piece that reflects the influences of both musicians while at same time going toward new soundscapes of choked saxophones, throat singing, bubbles, manic screaming, acoustic drones and more. The recording has the advantage of being clear and spatially well-mixed.
prisluhnite odlomku tukaj /

you can listen to a sample below:
~~~~~~~~~~~~~~~~~~~~~~~~~~~~~~~~~~~
GREETINGS FROM THE SEA
(botanic records 002)
marko karlovčec - no-input fx, mixer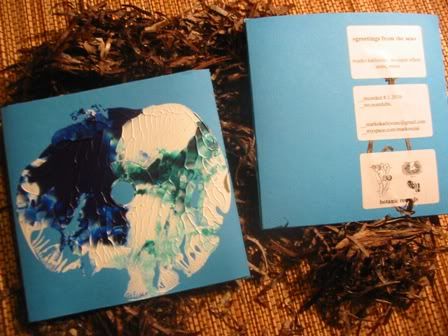 Moj prvi solo album, kjer igram na no-input efekte in mikser.
Gre za glasbo, ki se spogleduje z estetiko sodobne elektro-akustične improvizacije, noisom in nekaterimi vplivi sodobne klasike. Plošča vsebuje tri improvizirane skladbe, ki prehajajo od sinusnih piskov, pokanja pa do podlajšanih dronov in podivjanega belega hrupa.
Vsak CD je ročno oblikovan in unikatno poslikan.
Omejena "naklada".
My first solo album where I play no-input effect units and mixer. The music relates to the esthetic of contemporary electro-acoustic improvisation, noise and some influence from contemporary classical composers. There are three improvised pieces which shift from sine waves, bleeps, cracks to extended drones and waves of white noise. Each CD is hand assembled and hand painted. Limited "pressing".
prisluhnite odlomku tukaj /

you can listen to a sample below:
sample 1
~~~~~~~~~~~~~~~~~~~~~~~~~~~~~~~~~~~
- vsak cd je ročno sestavljen in vsebuje reprodukcije originalnih slik in designa.
- cena je 7€ (+ poštnina), tudi manj, če nimate...



- each cd is hand assembled and contains reproductions of original artwork and design.




- the price is 7€ (+ postal expenses), also less if you don't have...



za naročilo cdjev ali kakršnekoli druge informacije pišite na: markokarlovcec@gmail.com

to order the cds or for any other kind of information simply write to: markokarlovcec@gmail.com

HVALA ! /

THANK YOU!